TURNING YOU INTO A SPRINT MACHINE IN FOOTBALL
A guest article by our expert Lasse Ahl about football specific speed training and why you should start with our exercises right now.
This article about " football-specific speed training" is part of a complete series about speed and football.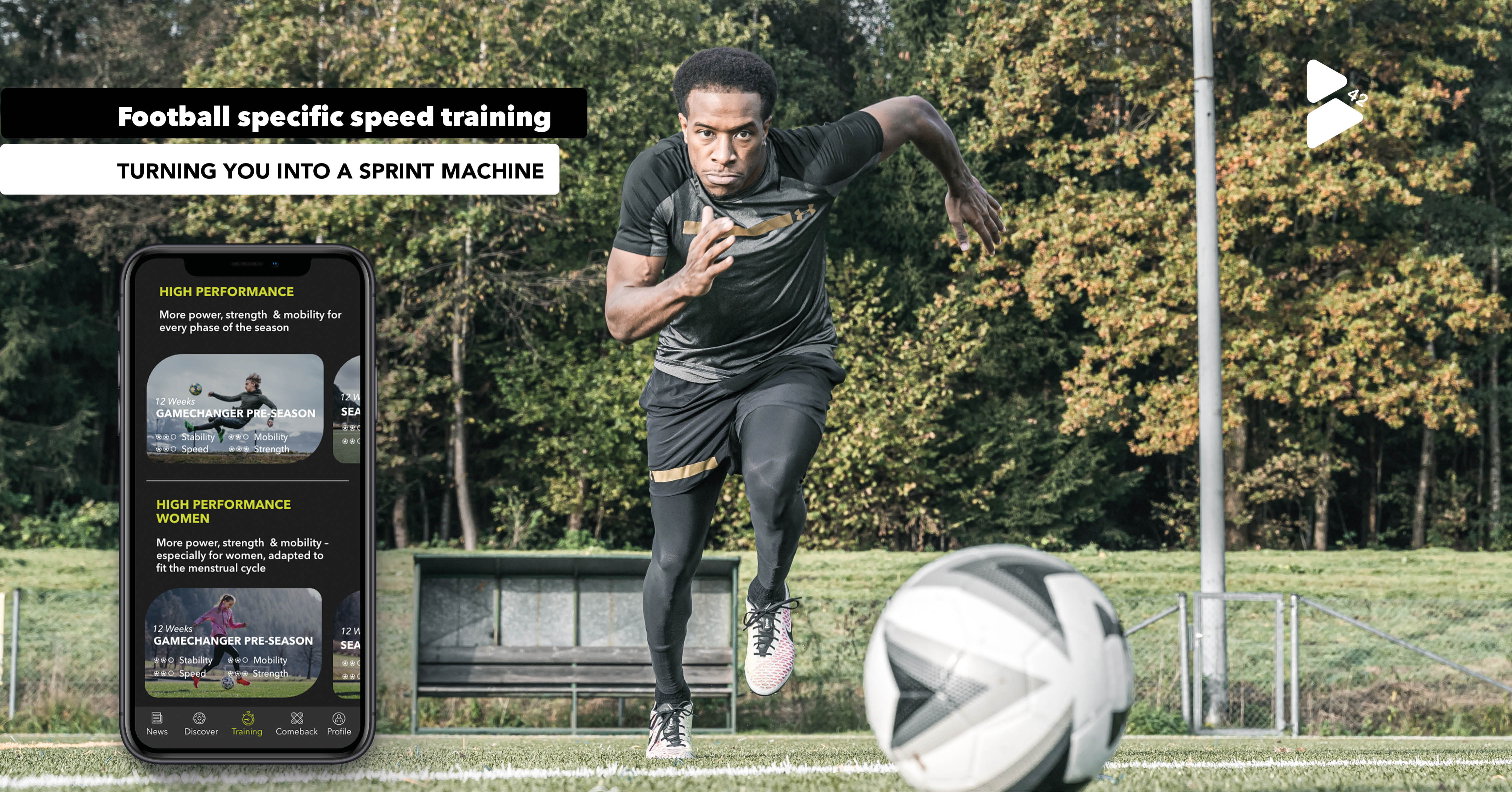 Davies, Sané, Coman and Gnabry - Bayern Munich's fast-paced series of attacks in the Bundesliga shows that speed in football is more than ever the measure of all things.
Dynamic sprints are difficult to defend even for defensive-oriented opponents. With enough horsepower, the chances of winning a one-on-one duel increase - the basis for coming dangerously close to the goal or, as a defender, for preventing the goal.
In today's blog article, we will once again focus on exercises related to speed in football. The main focus this time is on football specific sprint skills - i.e. skills adapted to the characteristics of the game.
Sprint training as injury prevention?
Many players inevitably ask themselves the following question due to long-term injury problems:
What is the best exercise to prevent injuries to the hamstring muscles?
This is a frequently asked question, since not least about 12-24 percent of all injuries in an "athletic context" are related to the hamstring muscles (back of the thigh).
Training the back hamstring muscles therefore seems to be enormously important for the health and performance of footballers.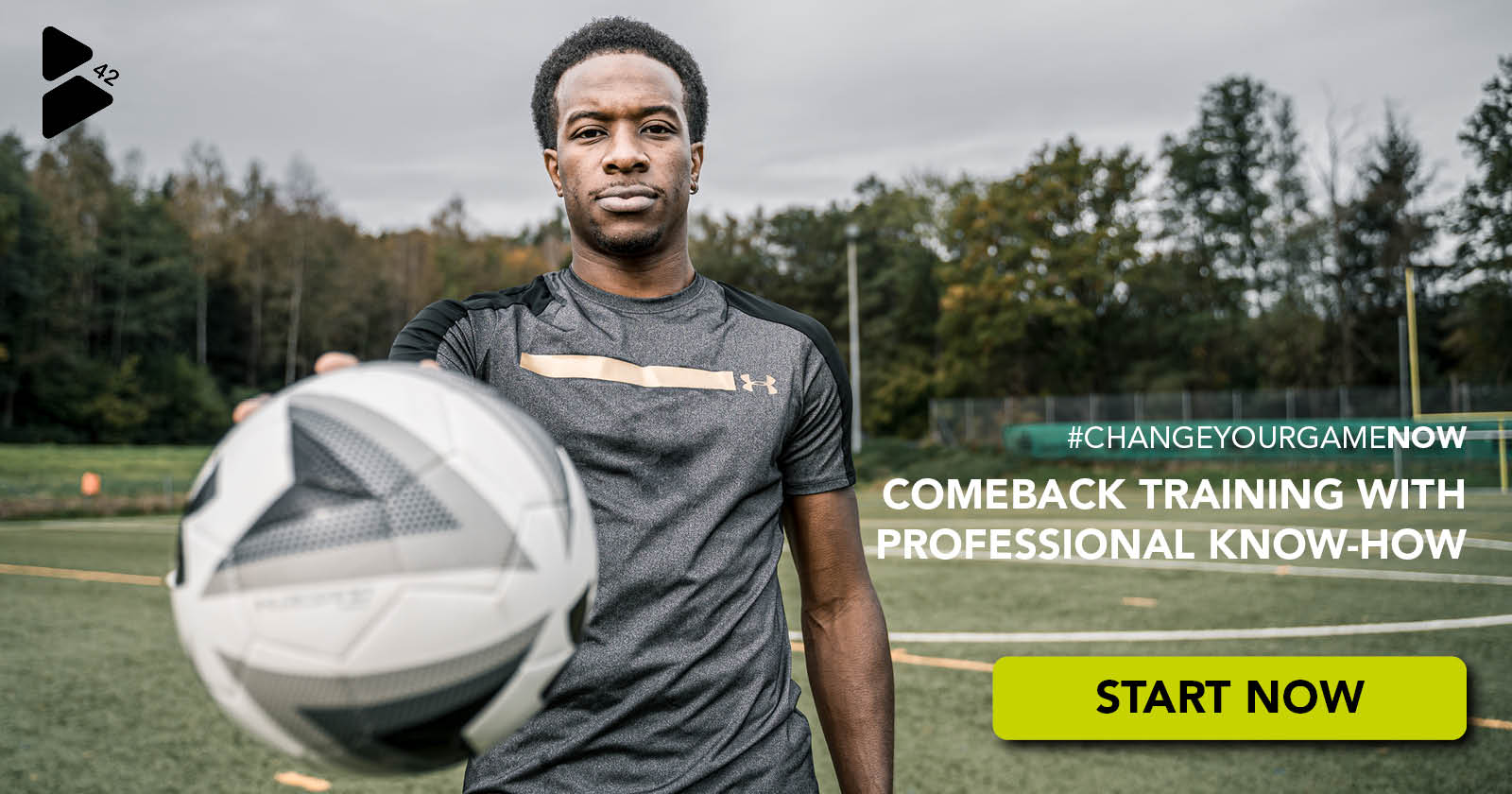 "Football lockdown" as an opportunity
Now we are in another "lockdown" in Germany, all leagues up to the regional league are suspended at least until the beginning of December.
As we could see from the data points (1st and 2nd Bundesliga, Third League) of the first lockdown, the frequency of muscle and tendon injuries increased significantly after the start of training and matches.
Within the various blog entries on "sprinting", we have already pointed out many times that sprint training can be an essential factor in minimising the risk of injury to the hamstrings.
In the following overview, the different demands of the football game are listed in detail: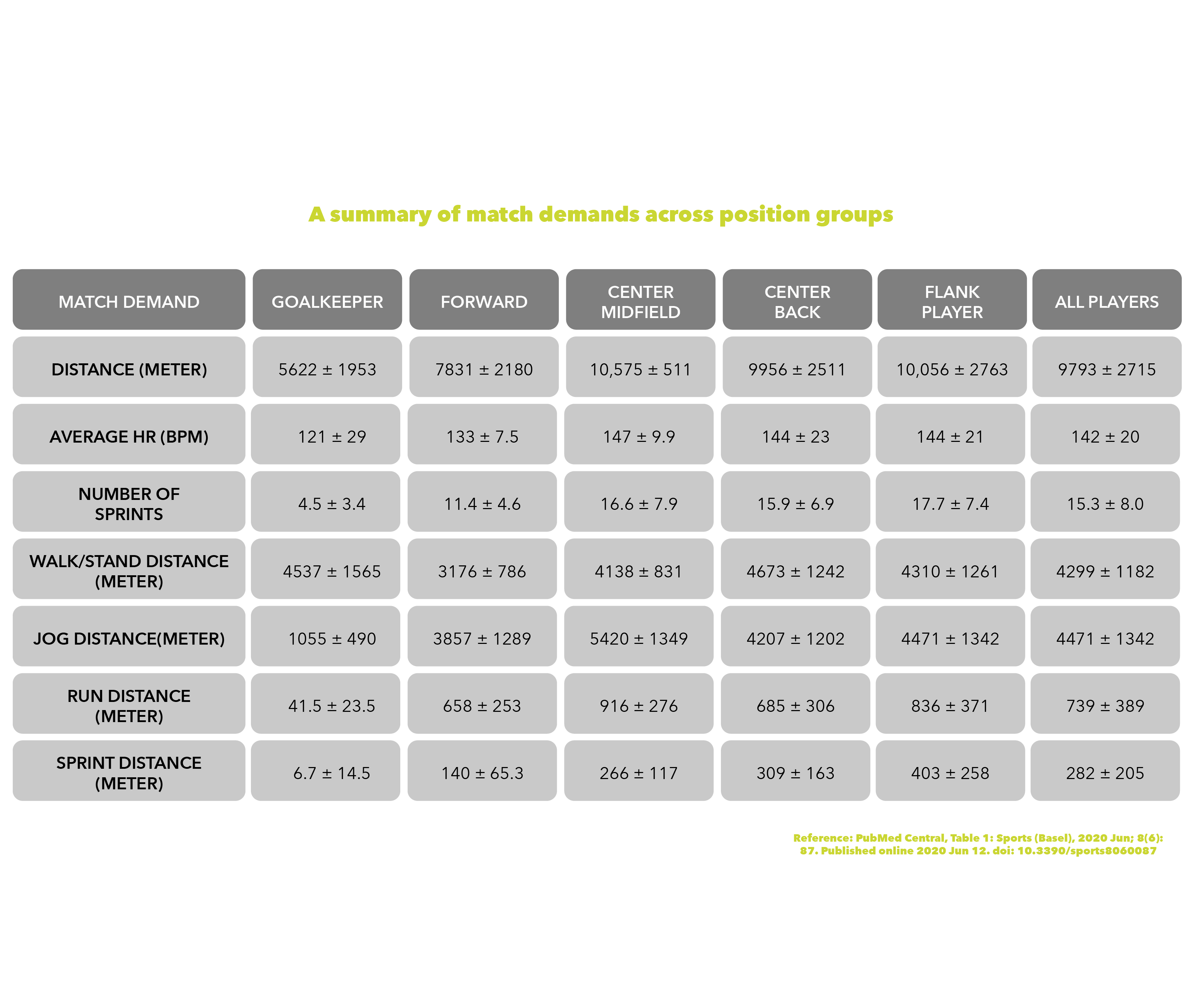 Sprint performance decreases significantly during the game
It is obvious that actual sprinting (here: over 19km/h) takes the least time (about three minutes) and the least distance (about 290 metres).
At the same time, the injury data of the college soccer season examined show that hamstring injuries associated with sprinting were the second most common reason (7.5 percent; ankle injuries are the most common).
This is one of the derivations that can be formed:
Those who can sprint more often and longer have an advantage in the game.
If you add the data of the sprint distance per 15-minute game interval, an even clearer picture per sprint training is obtained.
In the first 15 minutes of the game, the players can still cover about 80 metres at sprint speed.
Translating this into action would mean, for example, two to four sprints with a distance of 20 to 40 metres.
In the last quarter of an hour of the game, however, the players can only sprint a distance of 35 metres.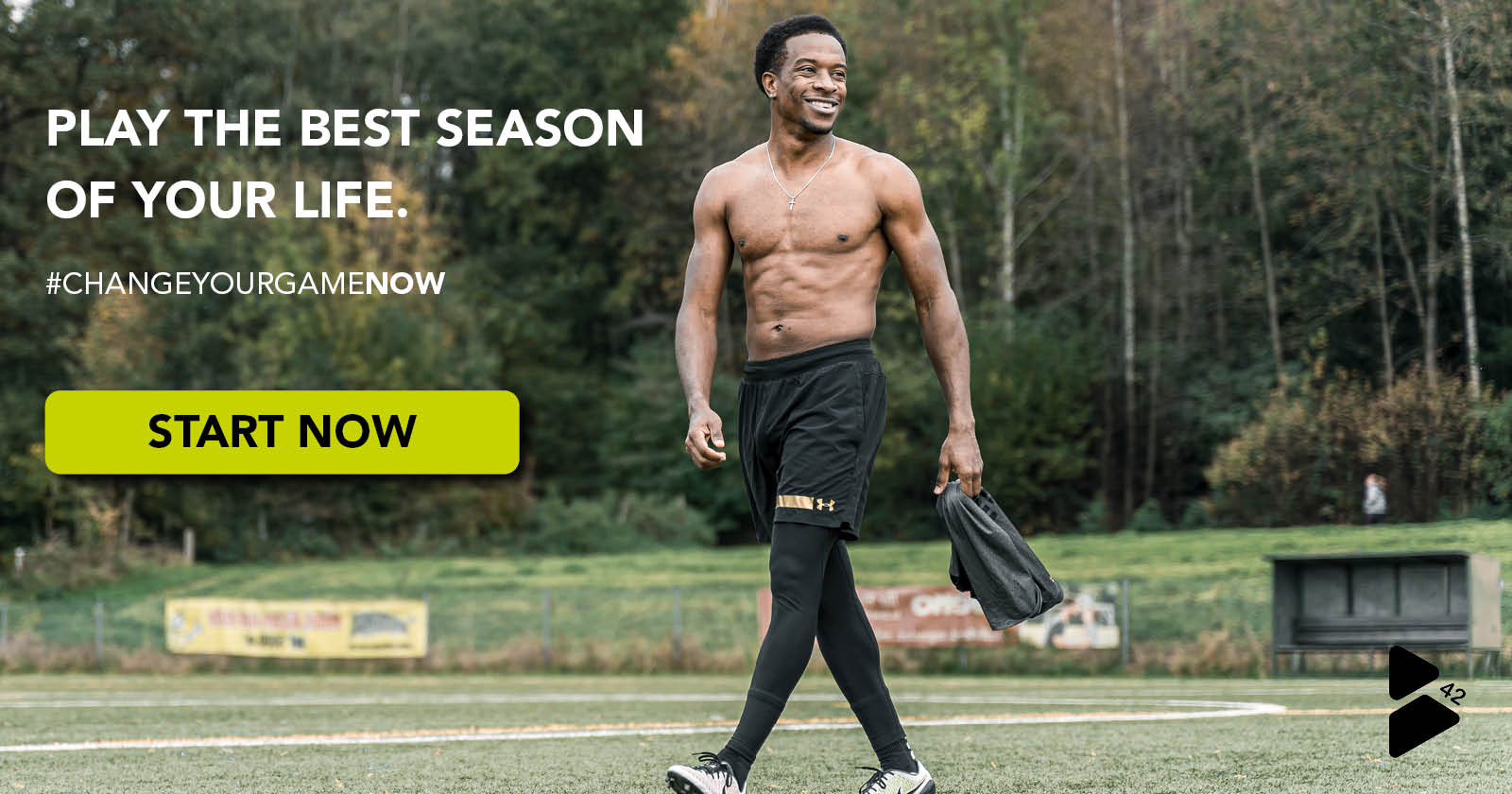 Four months break from the game must be utilized
Of course, good training with the B42 training app at home or in a gym should include specific exercises for the strength capabilities of the hamstrings.
However, precisely because of the recent lockdown situation, the standard 5-10km endurance run "through the green" is no substitute for the specificity of football training.
In Germany, for some of us it is still completely unclear when we will be allowed to have normal football training again. Nevertheless, as a precautionary measure, in some parts of the game has been cancelled until the end of the year and thus, in effect, winter break.
This would have the consequence that some players would have to play from October to mid-February - that is 4 months! - would not be able to get a conditional, football-specific stimulus.
This circumstance would be the most linear path to a muscle or tendon injury without the implication of running, sprinting and jumping training.
It is precisely these types of tissue that need the specific stimulus of high speed loads in order to be prepared for them in an "emergency" (sprint in the game).
Overview: "Fast running is not a sprint"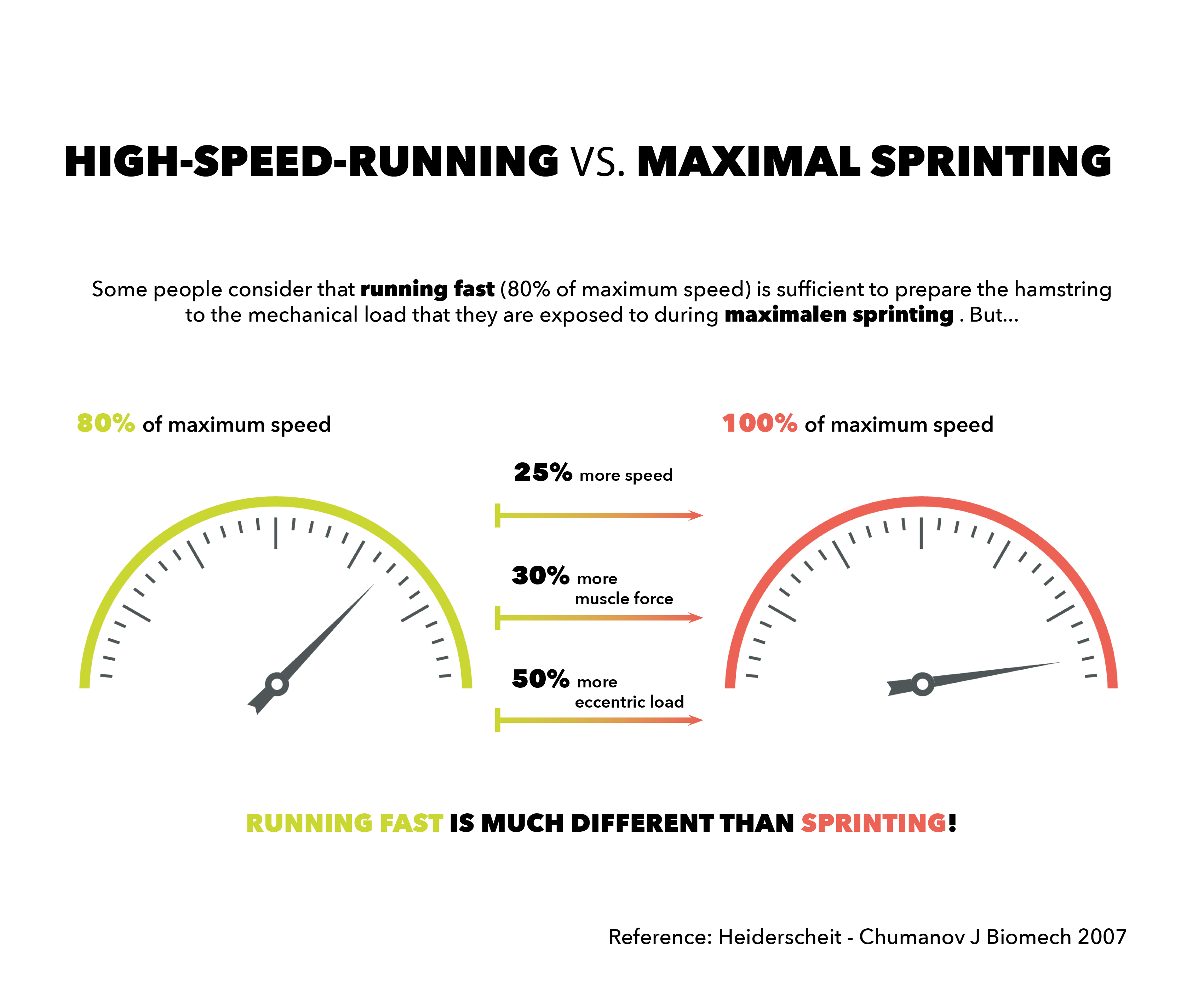 Our football-specific speed programme
In this blog post we will again present some speed exercises that you can incorporate into your football training.
The football game is a scenario for your body which is difficult to control - so the kilometres you ran are of course not always going straight ahead or the change of direction at a previously marked point.
You can also incorporate a run that varies in speed or imitate an abrupt stop including a defensive movement into your training.
The possibilities of specific "drills" are of course many and varied and we only provide a few examples here.
The only thing you should ensure is to do your sprint and sports specific training once a week - for the reasons already mentioned.
There you can find content for starts (1 to 10 meters), stops, direction changes and high speed runs.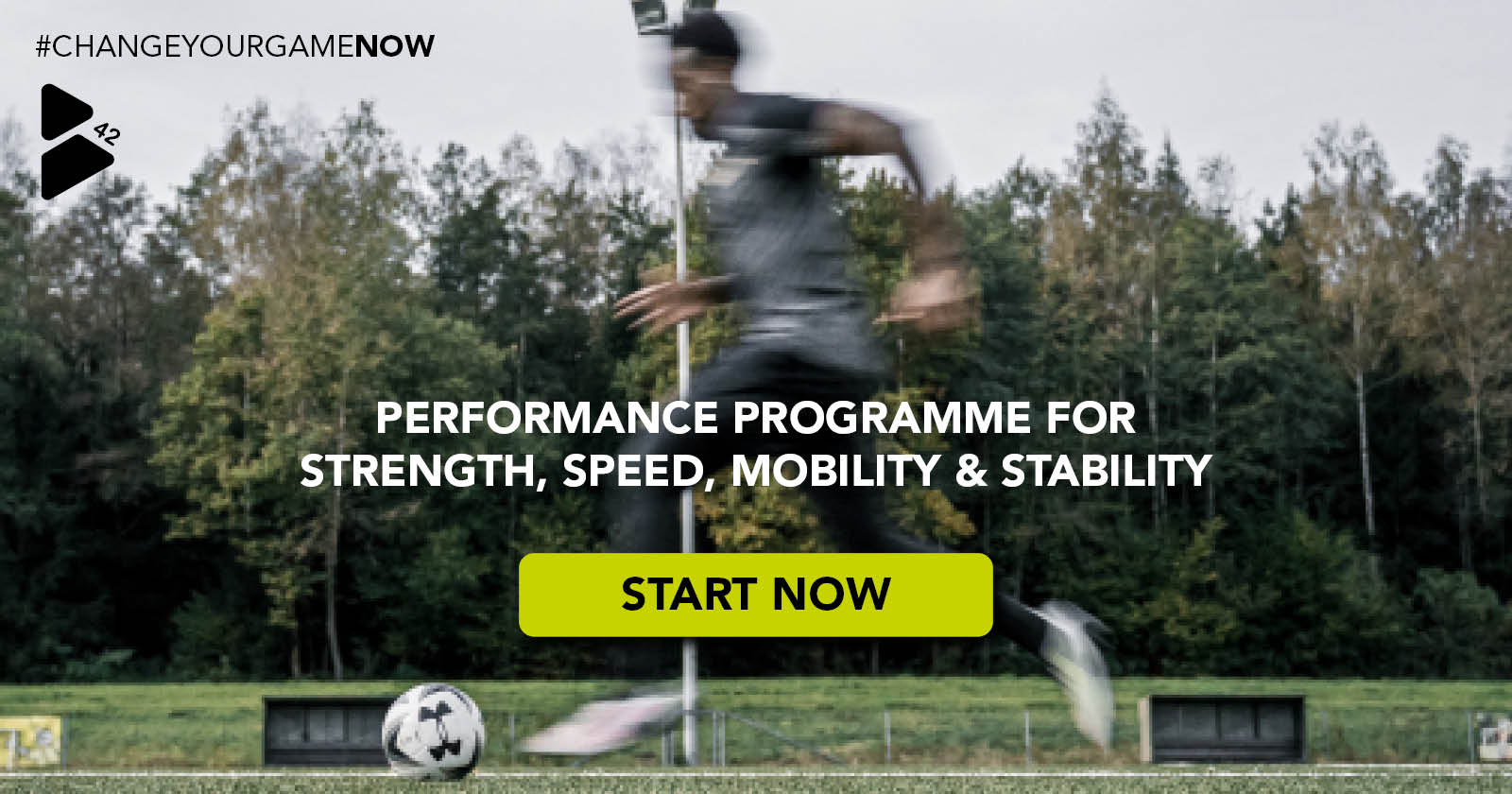 If you have the opportunity to have these things happen on the pitch, your tendons would certainly be delighted.
Why?
Because you can do the training in your football shoes. After all, the sudden change of footwear can have a serious effect on the different types of muscle tissue.
Exercise 1: A – Skip

10 to 20 metres - two runs
Exercise 2: Buttkicker

10 to 20 metres - two runs
Exercise 3: C – Skip

10 to 20 metres - two runs
Exercise 4: Skater – Skip

10 to 20 metres - two runs
Exercise 5: Diagonal Jump

10 to 20 metres - two runs
Exercise 6: Extended Step Down

8 to 10 repetitions - two runs
Exercise 7: Drop 2 Broad Jump

10 to 20 metres - two runs
Exercise 8: Jump Run

10 to 20 metres - two runs
Exercise 9: Single Leg Broadjump

10 to 20 metres - two runs
Exercise 10: In & Out
Mark your sprint course with four to five cones at intervals of about 15 metres
In this exercise, pace changes between the cones are crucial: one run easy, one run maximum sprint
Three runs - with a complete break in between
Exercise 11: Deceleration
Mark your sprint course with four to five cones at intervals of about 15 metres
In this exercise it is crucial to slow down and then to "push" backwards
Three runs - with a complete break in between
Exercise 12: 4 - Cone - Square Drill
Mark your sprint course with four to five cones at intervals of about 15 metres
Start with a sprint forward, sidesteps, running backwards and finally accelerate and sprint forward again
Three runs (each side) - with a complete break in between
I still owe you an answer:
Last but not least, we will now answer the above-mentioned question as to what is the best exercise for preventing injuries to the hamstrings:
It does not exist!
The context in which we move is impossible to control completely - and therefore depends on far too many factors.
It is relatively certain, however, that sprint and jump training reduces the risk of injury.
You can find even more complete training programmes to help you become faster as a footballer in our app.
Our SpeedZone and Gamechanger Season are particularly suitable for working on your top speed.
In our app for ANDROID and IOS you will find more football-specific speed exercises - including instructions on how to improve your football game - and complete programmes to improve your performance on the pitch.
Download the B42 football app now:


Be Fearless.
Be Focussed.
B42
About the author
Lasse Ahl - Sports Scientist (M.A.)
Our author Lasse Ahl (33) has been playing football actively since the age of 11, and also does additive strength training as well as cycling, running and skiing.
He is a sports scientist (M.A.) at the University of Göttingen and has been working for several years in the gym of university sports and in university sports.
Since 2017, he has also been responsible as Academy Education Director for the training and further education of the exercise instructors at the University of Göttingen in the areas of training science and the fundamentals of physiology & anatomy.
References
Jagim AR, Murphy J, Schaefer AQ, et al. Match Demands of Women's Collegiate Soccer. Sports (Basel). 2020;8(6):87. Published 2020 Jun 12. doi:10.3390/sports8060087
Mohr M, Krustrup P, Andersson H, Kirkendal D, Bangsbo J. Match activities of elite women soccer players at different performance levels. J Strength Cond Res. 2008 Mar;22(2):341-9. doi: 10.1519/JSC.0b013e318165fef6. PMID: 18550946.
Chumanov, Elizabeth S. et al. "The effect of speed and influence of individual muscles on hamstring mechanics during the swing phase of sprinting." Journal of biomechanics40 16 (2007): 3555-62.