Lina Magull of FC Bayern München, Julia Simic of AC Milan and Laura Vetterlein of West Ham United - three absolute role models of German women's football who are not only united by the great reputation of their current clubs.
It is also the common goal that unites them: to inspire young and aspiring female footballers and to make it clear that it is worth pursuing their passion for football.
With PlayForHer - the new platform for women's football - the three career players share their sporting and professional expertise, give interesting insights into everyday professional life and openly comment on current developments in women's football.
At the same time, they want to take the social dimension of football into account.
As role models, they want to show that sport can tear down boundaries and that the love of football can take girls and young women from the football pitch to the sold-out Wembley Stadium.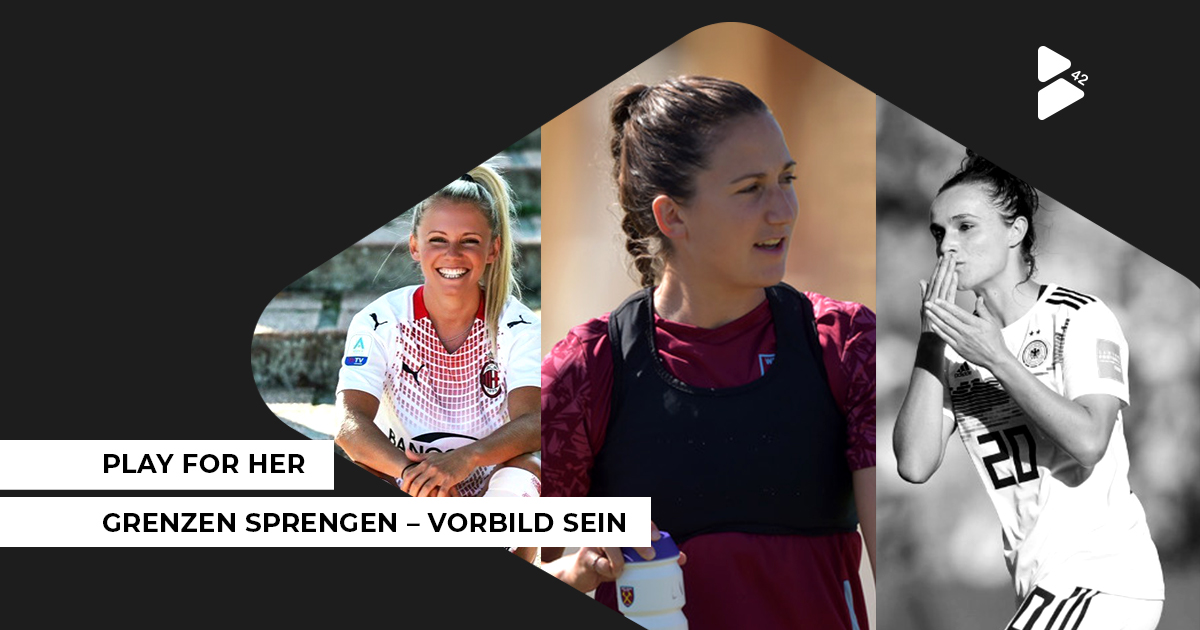 Nutrition and regeneration: Lina Magull
Lina Magull began her professional career in 2009 with FSV Gütersloh. She made her Bundesliga debut in 2012 for VfL Wolfsburg. In 2015, she was traded to FC Freiburg and signed in 2017. Since the 2018/19 season, the German international has played for FC Bayern Munich.
Her greatest successes include winning the German Championship and the DFB Cup twice each. She has also won the Champions League twice.
Lina Magull, captain of FC Bayern Munich, also wants to share her personal story with Play For Her, because hard work and honest passion will ultimately pay off for you too. She focuses in particular on the topic of nutrition and its importance for performance.
A healthy and conscious approach to nutrition will also help you to realise your full potential.
In addition, the FC Bayern Munich captain also discusses the importance of sleep and efficient regeneration.
Prevention and rehabilitation: Julia Simic
Julia Simic knows what it means to have to fight your way back after injuries. The 31-year-old former national player has already had to put up with dozens of physical defeats in her career - and has not lost her smile despite it all.
Julia Simic made her Bundesliga debut for FC Bayern München in 2005. In 2013, she moved to 1. FFC Turbine Potsdam, which she left again in 2014 to play for VfL Wolfsburg. After a brief stint with SC Freiburg, she moved to West Ham United in 2017. She has been playing for AC Milan since 2020.
Simic won the DFB Cup twice and became German champion in 2017.
With Play For Her, the qualified sports scientist wants to protect you from injuries with targeted preventive exercises and provide you with advice and support in the event of injuries. She wants to encourage all players to never give up and to take one more step with a smile on their face.
True to her motto: "More playing - fewer injuries".
Mindset and Leadership: Laura Vetterlein
The attributes mentality and determination describe Laura Vetterlein perfectly. More than many others, the 28-year-old central defender has the necessary discipline and absolute willpower needed for professional football.
Laura Vetterlein started her professional career in 2008 with 1. FC Saarbrücken, with whom she was promoted to the 1st Division the same year. In the 2011/12 season, she joined VfL Wolfsburg, before moving to FC Sand in 2015. Since 2019, she has been signed by West Ham United.
Her greatest successes include winning the Champions League, the German Championship and the DFB Cup twice.
Laura Vetterlein's focus is on mindset, leadership and empowerment. She wants to show female footballers how good performance on the pitch is not only dependent on talent and physical performance. With tips and tricks, she will also show you how to achieve goals you never dreamed of.
She will also explore how to deal with setbacks in order to come back even stronger on the court.
THEY PLAY FOR HER: terrific support
With Play For Her, the players will regularly share their expertise on nutrition, injury prevention, rehabilitation and mindset via Instagram, Twitter, Facebook, LinkedIn and the B42 website.
They have the support of the best female footballers in the world, who have shown their appreciation in a video.
Because all female footballers on this planet have one thing in common: they are stronger-willed, braver, more disciplined and more passionate than any gender role.
They show that anything is possible in life - that's why they PLAY FOR HER.
Follow Play For Her now and stay on the ball with Lina, Julia and Laura's help!
Be Fearless
Be Focused
B42.