Football is a contact sport. This is not just a provocative phrase used by the centre-back - armed with 16 aluminium cleats on his Adidas World Cup - in the direction of the opposing attacker, but unfortunately also a fact typical of the sport.
In order to be able to stand on the pitch without injury worries, as of today you can also train with a special training programme in our app:
PREVENTION TRAINING
The concept of "injury prevention", i.e. active protection against injuries, is important for everyone - especially after such a long break from football.
Injuries are part of football?
Football is all about the action: fierce duels in the air, tackles at waist height or do-or-die tackles as the last man standing.
Injuries are inevitably part of the game. A look at the statistics shows that the lower extremities are the main injury hotspot. Injuries to the knee joint (14%), the ankle joint (14%) and the thigh muscles (25%) often mean the end of the season for many footballers.
While muscle injuries tend to have a very good prognosis with regard to playing ability, ligament injuries are often associated with a longer break from the game. Extensive damage to the articular cartilage can often even mean the end of a career.
With every injury, the risk of secondary injuries often increases.
In the meantime, it has been established that with every damage to the ligamentous apparatus (this applies in particular to ankle injuries), the risk of secondary injuries also increases.
This means: if you have suffered an injury once, you are more susceptible to it from then on.
This often leads to a vicious circle that many football players cannot escape.
Prevention training as effective protection against injuries
What is usually missing in this case is sufficient control and activation of the damaged joint. By the way, this does not primarily mean a clean one-leg stand on a wobble board. Above all, it is about controlling movements in a way that is close to everyday life and play.
In addition to strengthening and dynamics, our training approach is also about starting where movement originates - in the central nervous system (CNS).
With targeted training exercises, movement sequences can be optimised and weak points that are not visible to the eye can be combated.
The best thing about prevention training:
You can do it alongside team training and matches, because the intensity is low compared to the GAMECHANGER.
Faster, higher, further:
Football in transition - to the detriment of athletes?
More than almost any other sport, football has changed enormously in the last decade.
The days when "the emperor" was allowed to prance from his own sixteen to far into the opponent's half without making contact, play an instep pass with recognition value and then trot comfortably back to his libero position are now over.
Pressing, counter-pressing and intensive defence over the entire pitch - the running performance of today's players has exploded. But not only the number of kilometres covered, also the so-called "hard runs" (i.e. explosive sprints) have increased enormously.
More mileage, significantly more dynamics and significantly tougher tackling are all pure stress for our joints.
Here is a small overview table of movement patterns that you primarily perform during games and training sessions.
If poor field conditions are added to this, injuries can occur.
| | | | | |
| --- | --- | --- | --- | --- |
| Requirement | Per game/training | Per game/week | Per month | Per season |
| Kicks | 50-70 | 250-350 | 1000-1400 | 10000-14000 |
| Turns | 20-30 | 100-150 | 400-600 | 4000-6000 |
| Jumps | 10-15 | 50-75 | 200-300 | 2000-3000 |
| Headers | 5-10 | 25-50 | 100-200 | 1000-2000 |
| Running kilometers | 8-12 | 40-60 | 160-240 | 1600-2400 |
Bringing the knowledge of professional sport to amateur football
If professional footballers get injured, they usually have a network of the best rehabilitation specialists on the planet at their disposal.
Surgeon, physiotherapist, rehab coach, performance trainer - all hand in hand; all accessible for several hours every day.
So while professional players can rely on perfect care in the fight against injuries, amateurs often have to help themselves.
Even a fraction of the professional care has to be begged for.
For this reason, we have expanded our COMEBACKTRAINING, i.e. the training after an injury, to include PREVENTION TRAINING. Training that provides targeted and lasting protection against injuries so that the worst doesn't happen in the first place.
B42 PREVENTION TRAINING - Ideal during the season
The PREVENTION TRAINING programme covers a period of 6 weeks, with each week divided into six individual training days.
The new programme is especially designed to protect football players from injuries. All exercises and the intensity are designed in such a way that PREVENTION TRAINING accompanies you ideally through the season, during which you naturally cannot complete three to four "All Out" units in addition to the game and team training.
With mobility units, neuro-centred drills, core and strength workouts, it is specially tailored to the needs of footballers:
Consistently, affected and surrounding body regions become more mobile, controlled and trained.
Each week always starts with a session to improve your control in the problematic body regions. This is followed by a core workout. The third and sixth unit of the week is either a specific prevention workout for better control or a mobility unit.
The prevention programme is also excellent in combination with other programmes such as PACEMAKER or SPEED ZONE.
However, since a lot does not always help a lot, there are the following instructions to follow when combining individual programmes:
- Make sure you have enough regeneration
- Make the programmes longer, i.e. complete the 6-week programme in eight or ten weeks.
-If necessary, lower the difficulty level
Eintracht Frankfurt, West Ham United, Apple and UEFA...
We work hard every day to be the best solution and the best support in achieving your goals. In the process, we have already achieved a number of milestones.
Eintracht Frankfurt's youth performance centre and West Ham United's junior teams use B42 (other clubs wish to remain anonymous).
In 2020, we won the UEFA Innovation Award 2020 and were named "Love App" (App of the Day) by Apple, as well as "Trending App" by Google.
To date, B42 is used by over 100,000 players in several countries.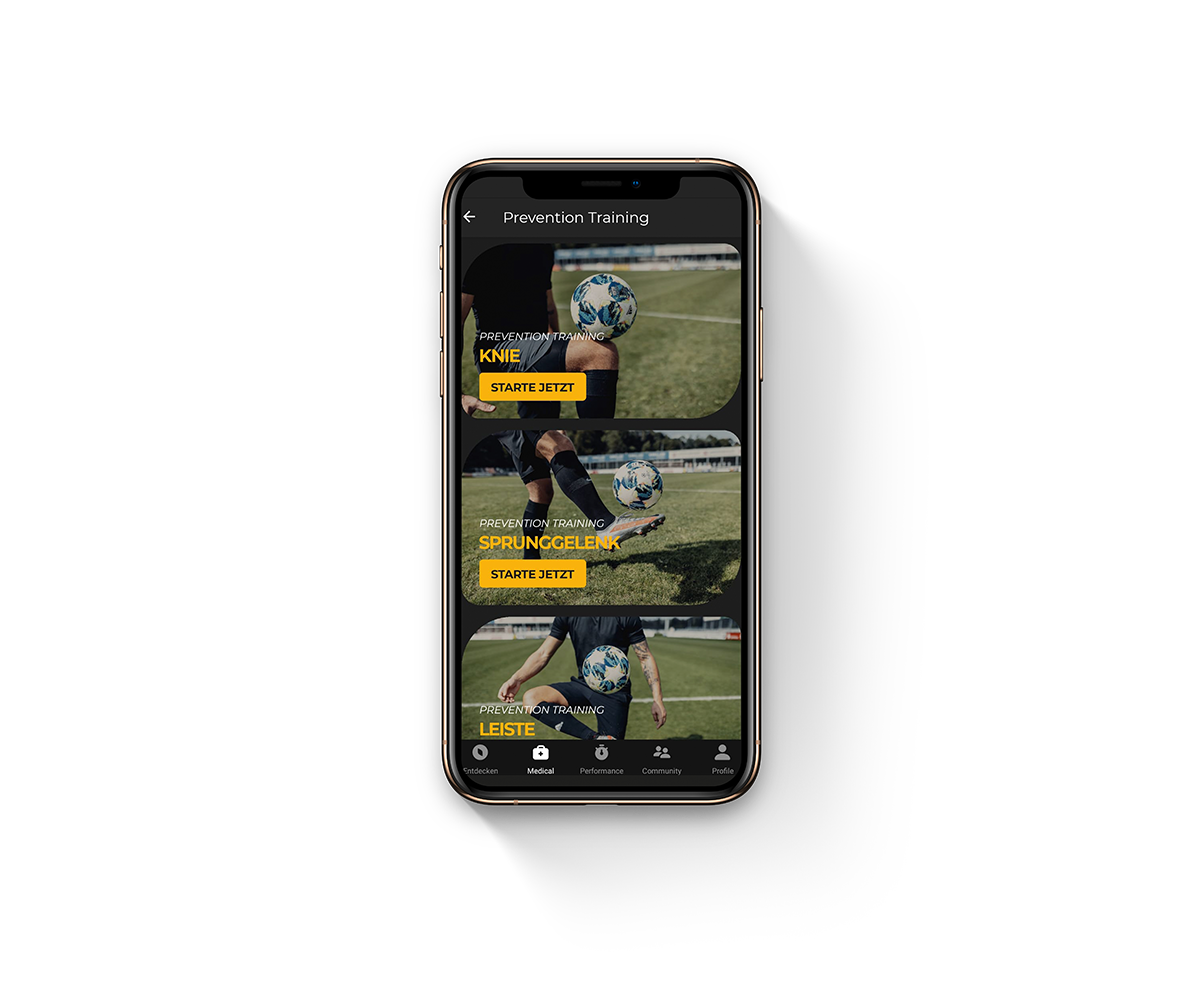 Get the app now and start your prevention training now:


Be fearless. Be focused. B42